About me:
I'm the founder and editor of Full Grown People, a web magazine of essays. I've also edited two anthologies, Full Grown People: Greatest Hits, Volume One (2014) and Soul Mate 101 and Other Essays on Love and Sex (2015). I'm the author of Practically Perfect in Every Way and the co-founder, with Stephanie Wilkinson, of Brain, Child magazine, where I worked for thirteen years. (Stephanie and I are no longer affiliated with it.) My writing has appeared in Creative Nonfiction, The Washington Post, Salon, VQR, and The Morning News, among other places.
I sometimes lead non-fiction workshops at WriterHouse, and I offer individual writing coaching for essayists. I live in Charlottesville, Virginia.
I looked like this three years ago: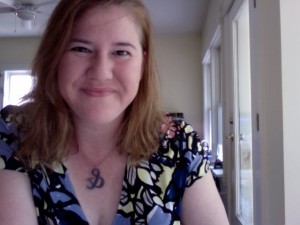 But I've since broken that necklace. I will eventually get another head shot.